Alien Creation
(London, UK)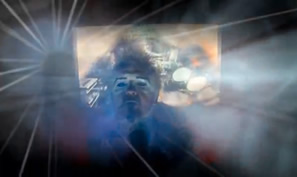 Alien Creation arises from its hibernation, not sleeping but dreaming up new musical shapes to tantalise your aural senses. Unlike other aliens this one will burst your ear drums with thumping powerful basslines, waves of electronic sonic beauty, punchy dance beats and ethereal, yet savvy vocals that 'keep it real' in a synthetic musical realm.



Concrete Age
(London, UK / Russia)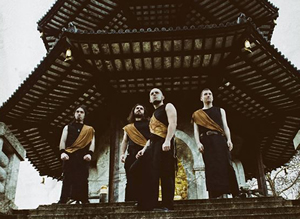 Concrete Age follows all traditions of true metal at the same time retaining its own individual style. Our music is Thrash & Death metal,driven with harmonious inputs of ethnic melodies which give Concrete Age such mysterious hue. Our songs are filled with instruments from different countries of the world. However, the culture of Tibet takes a special place in our music. Strong and technical riffs are smoothly intertwined with throat singing elements and fascinating whisper singing bowls.
This band was formed in 2011 in Russia by Ilia "Frosty J" Morozov. In November 2015 band moved to London.



Cryogenica
(London, UK)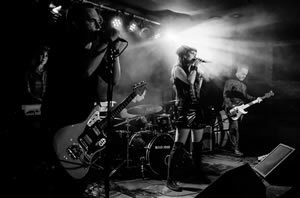 Cryogenica is a London based, alternative rock band influenced by Nine Inch Nails, Depeche Mode, The Jesus and Mary Chain and Siouxsie Sioux (to name a few). Reflections of Darkness magazine describes Cryogenica as "very much their own band, with a progressive and individual sound that translates equally well from their recorded output to blistering live performances". Intravenous Magazine categorizes the band's music as "sensual gothic rock and gritty industrial rock [...] with a perfect mix of dance friendly grooves and hard guitars". Cryogenica has released three albums and is currently working on a fourth; they are performing as a five-piece in support of the current "Utopia" and "Dystopia" EP's.



Die Kur
(London, UK)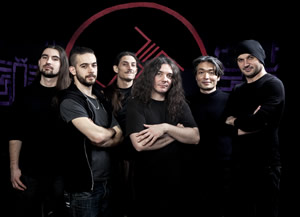 With origins in the mid 90s, Die Kur have been in a constant search for innovative sounds, rhythms and melodies evolving into one of the most respected and well established band of the UK scene. With shows spanning all over Europe and many releases at its back, the band went to prove the Metal movement still accepts something fresh and redefining.
With 4 albums and over 20 singles released during the years, Die Kur music combines heavy down-tuned guitars and unconventional rhythms with a unique sense of melody and experimentation often created with unconventional sounds.



Elderseer
(Guildford, UK)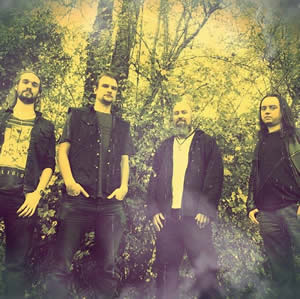 Elderseer are a pagan melodic doom metal band taking much influence from the melancholic UK gothic doom scene from the 90s, modern funeral doom and hints of ancient celtic and slavic folk. The band has a dark and deep atmospheric sound with a powerful melodic element.
The concept of Elderseer began as Barry's 'lone wolf' project in 2016 however he decided to recruit a full line-up of similar minded individuals.
Elderseer have been receiving a very positive reception in the short time they have been on the live scene, having a strong chemistry between band members and a unanimous artistic direction has definitely benefited recent collaborative songwriting and continues to improve the live performances.



Errant Shadow
(Mantua, Italy)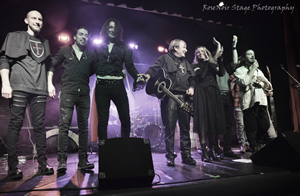 Errant Shadow is a symphonic metal band, a "gothic rock opera" project conceived by the multi-instrumentalist Seren Rosso with the support of Ænima Recordings at the end of 2016. On stage and in studio, Rosso employs several different guest musicians and singers.



Esprit D'Air (エスプリ デア)
(London - UK / Japan)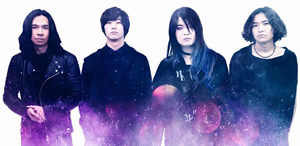 Esprit D'Air (エスプリ デア) is an award-winning Japanese electro-rock/metal band.
The critically-acclaimed album Constellations crowned them as winners of the best metal/hardcore album of 2018 by The Independent Music Awards at the Lincoln Center, New York, among an esteemed judging panel featuring Amy Lee (Evanescence), Slayer, Sepultura, Tom Waits and more.
Led by vocalist, guitarist, and composer Kai, Esprit D'Air is not seeking a major record label but instead, follow a strong DIY ethos and produce everything themselves to be as self-sufficient as possible. Consequently, they record, mix and master their own releases in their own home recording studio and produce the artwork themselves.



Evestus
(Tallinn, Estonia)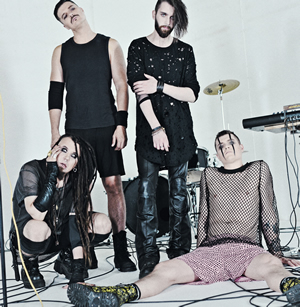 Evestus blending of bouncing rock sound with future-noir synths and distorted vocals hits you like a bag of bricks. Intense, emotional and engaging, Evestus takes the stage like every show was his last one.
2016 and 2017 Evestus toured with Ministry in Russia and Youth Code in UK, and had co-headlining tours in Scandinavia and Europe.
The shock-rocker Ott Evestus was chosen to be the spokesperson for Estonia on Eurovision, making quite the waves announcing Estonian votes at the worlds biggest music event to over 200 million people on Live TV.



Francesco Fonte Band
(London - UK)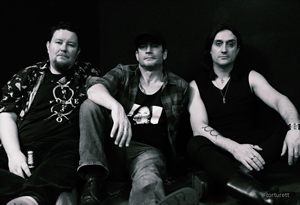 A progressive Rock band based in the UK and formed in 2011. Previous releases include the debut album 'Blue Omens' (2011) and the EP 'Arousal Addiction' (2013). Both records were reviewed by many webzines and magazines and also achieved numerous airplay's from the likes of K2KRadio, VirginRock, ClassicRock and Bcfm-Bristol.
The new album 'Eight' was released through NMTCG records on June 1st 2018 with a very successful live show at The Unicorn – London following two singles video release on you tube directed by Torturett Photography.
The new album has been reviewed through webzines and radios worldwide. The trio is currently heading towards an European Tour ending at Alice's Wicked Tea Party Festival– Dorset (UK).



Hats Off Gentlemen It's Adequate
(London - UK)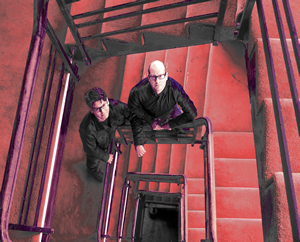 Hats Off Gentlemen It's Adequate are Malcolm Galloway and Mark Gatland on their own or with Kathryn Thomas (flute).
They combine prog/alt-rock, funk, metal, ambient, contemporary classical, minimalist, and electronic elements, and often explore scientific themes.
Hard Rock Hell magazine - 'unlikely stars who stole the show'. Beasties Rock Show's Album Of The Year



Heavy Mass Driver
(Rochester - UK)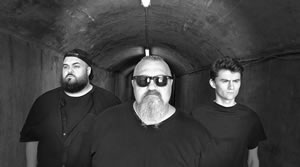 Heavy Mass Driver are a 3 piece heavy rock band from Rochester, Kent. Featuring members from Negative Earth - the band have destructed their previous sound and created a huge, powerful bass-centric sound that's infused with keys and samples.



Hora Limite
(Madrid - Spain)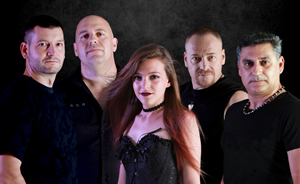 The band started early on to play concerts and to create their own repertoire, which would lead to the recording of their first demo that would bring the video clip of Kill the dead.
After some changes in the initial formation and few releases they produced the album "Result of an error", recorded by Jorge Salán and produced, mixed and mastered by Albert Toledano (Alterevo) in the Intertour Music Studio. The band has gone on to sign for the record company A New Label.



Howlin' Anton Bleak
(London UK)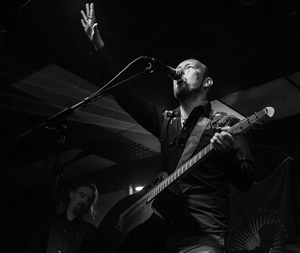 Frontman of death.blues legends Bleak, Howlin' Anton takes you on a journey from the dustbowls and chaingangs of 1920s American South via the Siberian tundra to London's darkest underbelly."



Killerkorp
(Ipswich - UK)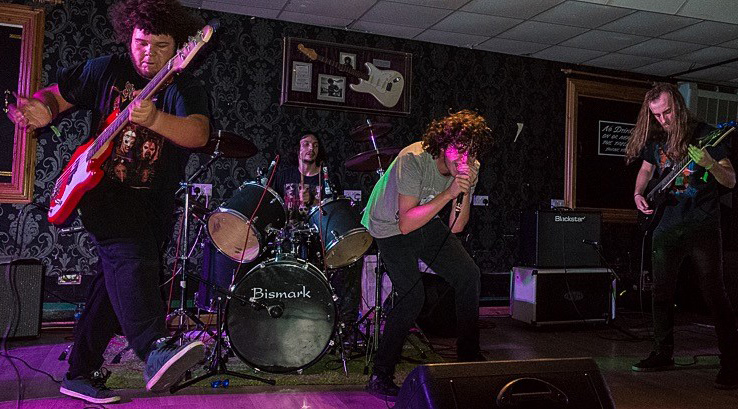 In the winter of 2017 located in the urban decay and tattered landscapes of Ipswich, Suffolk, East Anglia, The Killer Korperation was Established to create the most raw, abrasive and energetic style of metal they could possibly conjure! Melding multiple influences. This band of brothers will stop at nothing to reach the goals they seek to obtain and wish to make a mark of the modern metal music scene!



Machine Rox
(London - UK)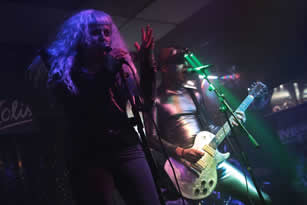 Since forming in 2007, the band has sculpted a merger of Electro, Industrial, EBM, Metal and Rock which has rampaged whilst pushing the boundaries of band and genre.
Machine Rox began as the solo project of Richard K also known as Silverman, ex-member of industrial metallers Meat Machine and Global Noise Attack, with whom he shared stages with the likes of Rammstein, Napalm Death, Christian Death, Sulpher, Ultraviolence and Covenant.



Maxdmyz
(London - UK)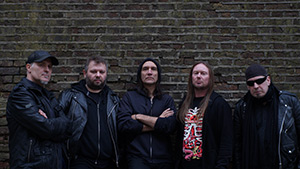 Maxdmyz is a London based 5-piece band well established on the UK scene having built its reputation over the years with stunning live performances and recording some of the most innovative and original alternative metal ever. Some of the band's highlights include past collaboration with Eminem. The band's influences are wide and varied and what truly marks this band out is its musicianship and compositional excellence and the breadth and variety of its output.



Psideralica
(Mallorca - Spain)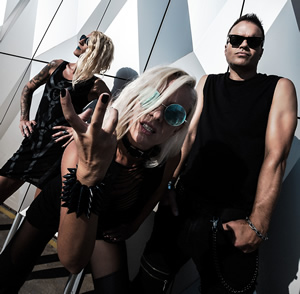 Psideralica was founded by guitarist Toni Kernel in 2003, has released the many albums that intoxicate listener's skin with their infectious choruses.
"Bands like Psideralica escape all rules. They hit you from different angles. It's not your typical Goth, or industrial, or dance group. Waves of synths and electric guitars intertwine with the voice of Lady Marian, capable of crossing Madonna with Rammstein." (Costa de Fuego 2012).
In addition, several songs of PSIDERALICA have been selected for soundtrack of several TV series and film productions, both in Spain and the rest of the world.



Scant Regard
(London - UK)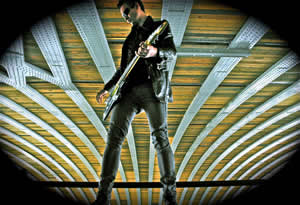 Will Crewdson is known for his stylishly rocking contributions on guitar with many artists: Rachel Stamp, Adam Ant, The Selecter, Bow Wow Wow, Sigue Sigue Sputnik Electronic, Johnette Napolitano to name but a few. With Scant Regard he flexes his solo muscles and fuses raw electronic beats with the kind of guitar sound that wouldn't be out of place on a Link Wray or Duane Eddy track.
Will's highly individual guitar sound coupled with a heady brew of dubtastic almost techno-centric analogue synth sounds and patterns make for an always unexpected and interesting listen.



Southgate
(Madrid - Spain)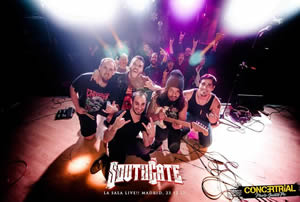 In May of 2011, in the locality of Alcorcón in Madrid, Alberto Gil Hernández, Diego Chozas Cano and Pablo Yañez Rodriguez created SouthGate. During the beginning of 2015, Southgate recorded "Metal is Over All". Towards the end of 2016 the band gave birth to their second EP "Memories of Redemption". During all these years, Southgate has performed on plenty of stages in the capital and the rest of the country, earning part of the experience that allows them to move forward.



The Hirvi
(Helsinki - Finland)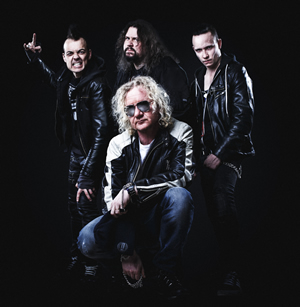 The Hirvi returned to stage in September 2017 co-headlining Metal Massacre 2017 - festival which was reviewed at Finland´s biggest metalzine Kaaoszine among the top gigs of the whole year.
The band then toured all over Finland, Baltics and Russia. The first album "Old school killspree" was released 02/06/2018. The album received top ratings all over metal medias of Europe and Finland and became the record of the week in Finland´s leading metalzine Imperiumi.



Ventenner
(London - UK)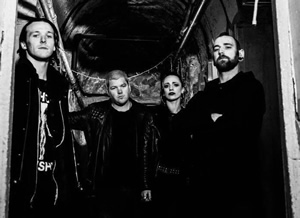 Ventenner is an alternative rock hybrid blending metal, atmospheric electronics and doomy riffs. Starting as a solo project in the industrial scene, Ventenner has grown and evolved to occupy a genre all of their own.
Their latest album, 'Invidia' has shown a sound much heavier and more visceral. Influenced by their time spent on the live scene for the last two years, 'Invidia' is the bands most critically acclaimed album yet. Hailed as Ventenner's reclaiming of industrial rock for the UK and serious contender for breaking in to the mainstream scene.


Ward XVI
(Preston - UK)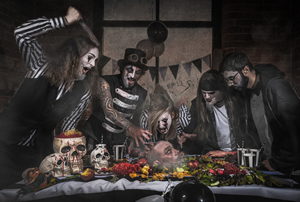 In the summer of 2013 in the city of Preston in the Northwest of England, a group of misfits got together for a new musical project with the aim of creating something completely unique.
In 2017 Ward XVI progressed onto the New Blood Stage at Bloodstock Open Air Festival after winning Metal 2 the Masses and then went on to win a further prize of a full PA system after impressing the Bloodstock team with their packed-out theatrical performance. Their momentum hasn't slowed in 2018, which has seen them supporting Doyle (The Misfits) on a full UK tour before they brought their insanity to the Breaking Bands and Amplified Festivals. Later in the year they will head out on tour again with Red Rum across the UK before embarking on their own 'Scare in the Community' tour at Halloween. This demand has already resulted in their booking at HRH Metal , Hammerfest and Badgerfest in 2019.
Plans are afoot to return to the studio to record the follow up to The Art of Manipulation ready for release in 2019.
=======================================================================

with Special Guest: Nigel Osner (Cabaret Show)
Hosted by Andrew Hobbs (K2K Radio Rock Show)
Comic Exhibition by Satanic Comix Mojo, Federico Arceri, Shane Melisse

DJ Vade Retro (Reptile / Antichrist),
DJ 69 (Retribution Alive)
DJ Darren Law (Inferno)
DJ BAnn (The Fix! HRH Radio)
DJ Schizo (The Intrepid Fox)
DJ The Baron (Soon)
Looking forward to the return of the RAM!

Renaissance Alternative Music Festival - Saturday 2 March 2019
The Electrowerkz
7 Torrens St, London EC1V 1NQ -
Nearest Underground Station: Angel.
Please Note: 18+ / ID Required to Entry / R.O.A.R.

Tickets available at £15 Advance exclusively at
https://www.seetickets.com/tour/renaissance-alternative-music-festival-8th-edition