My Goth God Below
Becoming of a God
EP Press Release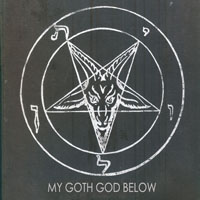 Subject: "My Goth God Below" EP release "Becoming of a God"
Format: Digital Download
London, June 11 2011 --
NMTCG is proud to announce the release of "Becoming of a God" the EP from My Goth God Below on June 11, 2011.
The sound created by My Goth God Below takes shape into this release composed by 5 songs on 4 tracks:
1. Necessity of War
2. The Failing God Above
3. Collective Suicide
4. Just Run + Dismantling Dreams
Available in for a limited time in free digital download including PDF booklet via NMTCG website www.nmtcg.com
as a bonus, 4 videos covering all EP are available in NMTCG's YouTube channel at www.youtube.com.
yours
NMTCG team